Computers and Technology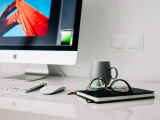 Registration Unavailable
Create Your Own Website on Wordpress
with Frank Turek

Mar 8, 2017 at 6 pm
, runs for 4 weeks
This class will take you through the steps of creating a basic website so that you can bring your business, your interest or just yourself to the Internet. We'll get you set up on a solid foundation, and cover proper web practices for organizing your pages and content. We'll choose from Wordpress' many themes and find a style to suit your needs and aesthetics. The last class will be a workshop to finalize everything as you launch your website. All the basics on are free, though we'll explore premium options that further expand capabilities. Prerequisite: familiarity with an Internet browser; ability to create tabs; and to select, copy and paste web addresses (URLs). Bring to class: written content for your web pages, photos, ideas for the name of your website; an email account which you are able to access remotely; and most importantly, a 'can do' outlook. Student computers provided. Frank is a web developer specializing in helping people with their WordPress websites. He's introduced over a hundred students to the website-building platform WordPress and has a keen understanding of the learning needs of non-tech folks.
Four Wednesdays, 03/08 to 03/28/2017
6:00 to 8:00 pm, $46
Instructor: Frank Turek
Registration Unavailable
OFFICE 2013: Computer Knowledge for College or Business

Feb 27, 2017 at 6 pm
, runs for 12 weeks
A successful college experience means that you MUST have the computer skills necessary to be able to work independently. As many adult students can be intimidated by the college experience it is essential to have those computer skills PRIOR to taking your initial college class either in person or online! The course will cover all MS Office Applications and follow the syllabus of SMCC Computers Applications course #CMPT101. Attendance and completion of the course will award (3) credits at SMCC to matriculated academic students.
Dates: Postponed start date to Mon Feb 27 due to storm, through to May 2017; no class on school vacations
Mondays 6-9 pm
Fee: $99 for Business MS Office Skills
$44 for College Transitions students
Instructor: TBA