Filter by Category
Cooking
Cooking with BoomerTech Adventures Online
with Boomer Tech

Next available session starts Jan 24, 2022
2 additional sessions through Mar 22, 2022
Your BoomerTech adventure guides Chris, Jill, and Ed share their love of cooking with a wide assortment of tasty recipes. Learn how to prepare stir-fries using traditional Chinese flavorings. Make fresh pasta and sweet potato gnocchi! Learn to make your own pita pockets, flat breads, and tortillas. Finally, who can resist a rich chocolate brownie torte or luscious apple? Learn to make them all.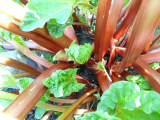 Preserving the Harvest: Rhubarb Orange Chutney
with Kate McCarty

Next available session starts Apr 12, 2022 at 6 pm

, runs for 1 week
Rhubarb is one of the first edible signs of spring in Maine, and its versatility is underappreciated. Come learn the many uses of rhubarb in preserving, and make chutney, a unique and flavor-filled condiment from University of Maine Cooperative Extension staff and Master Food Preserver. We will learn how to safely preserve rhubarb using the boiling water bath method. Participants will receive recipes and a jar of chutney! Please bring a potholder with you to class. 
Acadian Arts Spring Retreat at Grey Havens Inn
with Boomer Tech

Next available session starts May 23, 2022 at 9 am
Escape to a grand Victorian Inn on the coast of Maine with an intimate group of artists and cooks. You'll get to choose one of three hands-on workshops, plus an opportunity to experience one or more of the other offerings during our four days together. Fee includes meals and course instruction and materials. For overnight accommodations please contact the Grey Havens Inn, https://greyhavens.com Day students are also welcome! Workshops include: Watercolor Painting, Set Your Creative Spirit Free, and International Fusion Homestyle Cooking for a Crowd. Cancellations & refunds subject to BoomerTech policies. Update on class availability: Watercolor class is filled, but spots are available in Cooking and Creativity classes.