Computers
Registration Unavailable
Basic Computers for Seniors and Beginners
with Becky Test

Mar 23, 2017 at 4:30 pm
, runs for 4 weeks
You can do this! Take the fear out of learning new technologies. If you have very basic or no experience with computers and want to learn more, then take this class. Discover how to create and edit Microsoft Word documents, manage folders, use and save pictures from email. In a relaxed atmosphere we take you step by step until you have the skills to navigate the internet, use Favorites, save a file and create a folder. Explore fun topics in health, pets, recipes, travel, shopping, and sports schedules, and enjoy keeping better connected to family and friends. Each student will have hands on instruction and opportunities during class time to practice the skills learned during demonstrations. Laptops provided or bring your own.
Four Thursdays, 03/23 to 04/13/2017
4:30 to 6:30 pm, $69
Instructor: Becky Test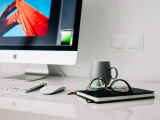 Registration Unavailable
Create Your Own Website on Wordpress
with Frank Turek

Mar 8, 2017 at 6 pm
, runs for 4 weeks
This class will take you through the steps of creating a basic website so that you can bring your business, your interest or just yourself to the Internet. We'll get you set up on a solid foundation, and cover proper web practices for organizing your pages and content. We'll choose from Wordpress' many themes and find a style to suit your needs and aesthetics. The last class will be a workshop to finalize everything as you launch your website. All the basics on are free, though we'll explore premium options that further expand capabilities. Prerequisite: familiarity with an Internet browser; ability to create tabs; and to select, copy and paste web addresses (URLs). Bring to class: written content for your web pages, photos, ideas for the name of your website; an email account which you are able to access remotely; and most importantly, a 'can do' outlook. Student computers provided. Frank is a web developer specializing in helping people with their WordPress websites. He's introduced over a hundred students to the website-building platform WordPress and has a keen understanding of the learning needs of non-tech folks.
Four Wednesdays, 03/08 to 03/28/2017
6:00 to 8:00 pm, $46
Instructor: Frank Turek
Registration Unavailable
Intro to Photoshop: Color Correction, Retouch and More
with Becky Test

Mar 14, 2017 at 6:15 pm
, runs for 4 weeks
Adobe is the most popular photo manipulation program available today. Discover how to crop, enhance, color correct and retouch electronic images. With hands-on training, students will learn about the basic tools in a relaxed environment. A review of lighting techniques to enhance a digital photograph will be shown. The ultimate goal is to develop your own style in a final project. Students are encouraged to bring their own images to class. Images will be provided for anyone who doesn't have a camera.
Becky has over 12 years of experience as a Microsoft Network administrator- Apple Certified Apple ILife, MCITP, CCNA and has taught the range of adult technology classes from beginners to Office, HTML, Digital Imaging and more since 2002. She's helped students publish their work in local community service catalogues and display work in galleries.
Four Tuesdays, 03/14 to 04/04/2017
6:15 to 8:15 pm, $69
Instructor: Becky Test