Filter by Subcategory
Literacy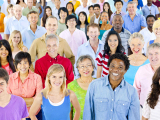 ELL Beginner
with Bethany Jensen

Current session started Jan 4, 2023 at 6 pm
This fun class will help you refine your speaking, listening, reading, and writing skills. We will work on English topics that will assist you in being more effective in your daily life. You will need access to email and a tablet or computer to study outside of class each week. New students may be placed in this class after an intake and Reading assessment. Call 730-5040 for an appointment. Bethany Jensen is a speech/language pathologist. 
ELL Intermediate
with Jennie Robinson

Current session started Jan 10, 2023 at 6 pm
This interactive class is for students who are advancing from a beginner level and have a CASAS score at or above 220. We will work on increasing our understanding of the English language to engage in conversations and written exchanges about familiar topics. Students will need access to a tablet or computer for class and homework. Jennie Robinson is an English Language Arts teacher at Scarborough Middle School. 
ELL Daytime
with Yvonne Wentz

Current session started Apr 26, 2023

, runs for 8 weeks
In response to a request to have daytime ELL instruction, Scarborough Adult Learning Center staff will host a learning lab at Scarborough Public Library for ELL students. Instruction will focus on improving skills in English as well as achieving personal language goals.