Filter by Subcategory
Literacy
Registration Unavailable
Citizenship Preparation
Price not
available
If you are interested in a preparation class for US Citizenship please call the office and let us know. If we have enough interest we will schedule a class and, if not, then indiviudalized tutoring can be arranged. 207-730-5040
Registration Unavailable
Daytime ELL
If you are interested in a Daytime ELL class on Tuesday and Thursday mornings from 9AM to 12:00PM please contact our office at 207-730-5040. If you are interested in expanding your English with a small group of non-native English speakers please join us for conversation and other instruction in the mornings. Please call the office if you are interested in exploring this option.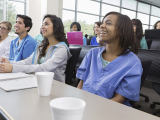 Registration Unavailable
Pre-CNA Class for English Language Learners
Price not
available
NEW! Starting this winter! 14 week CNA for English Language Learners who will require additional English reading comprehension and communication skills prior to starting their CNA class with us. Sponsored through Sedgewood Common, a Genesis Healthcare Facility in Falmouth, this course provides intensive English instruction during the first three weeks and then continued English support while enrolled in your CNA class. Acceptance into the program requires a minimum CASAS score of "230" and complete application packet, including evidence of high school completion, photo ID and Social Security card. We anticipate this to be a daytime class 3 days per week with classroom in Portland.
PLEASE CALL 730-5040 or email: jtremberth@scarborough schools.org.