Filter by Category
Arts & Crafts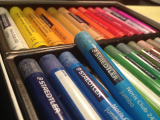 Mindful Pastel Landscape Drawing
with Christopher Reed

Next available session starts Jan 26, 2021 at 12:30 pm
1 additional session on Mar 23, 2021
This class introduces students to the basic principles of pastel landscape drawing, including the mixing of colors on various textured surfaces, layering, and blending. Composition and value will be explored through landscape photographs. Mindfulness exercises will accentuate the creative process and allow the inner artist to unfold naturally, without judgement or fear. This class is for beginners as well as those with experience. A supply list will be provided. Instructor Christopher Reed graduated from Bowdoin College with a BA in Visual Arts. He is a painter, exhibitor, and art teacher inspired by the synthesis of nature, the evolving play of light, and each artist's unique expression of feelings and interpretation.
Session 1: Jan. 26-March 9 (no class Feb. 16), 12:30-2:30 PM
Session 2: March 23-May 4 (no class April 20), 12:30-2:30 PM
Modern Punch Needle
with Sarah deGrandis

Next available session starts Mar 22, 2021 at 6 pm
Make a modern, fun piece of wall art for your home using the traditional craft of punche needle rug hooking! Learn the basics and tools of punch needle, as well as tips and tricks, ideas on how to finish your piece, and the confidence to start new projects on your own. Choose from cute cat, floral, mod drop, color block bloom, or modern abstract design. Cost includes materials kit with hoop, punch needle, cloth, yarn, and tip sheet. Sarah de Grandis, BFA, is an artist and crafter who enjoys modern takes on traditional techniques. Instagram: sjanecraft.
March 22, 6-8 PM