Filter by Category
Environment
A Walk Through Maine's Salt Marshes: Their Ecology and Conservation
with Grace Glynn

Next available session starts Nov 3, 2021 at 6 pm
Salt marshes are increasingly recognized as highly valuable places that cushion Maine's coast from the open ocean, sponging up carbon and providing feeding grounds for wildlife. Join us in an illustrated "walk" through Maine's salt marshes with a special focus on our state's largest salt marsh, the Scarborough Marsh-its history and ecology. Join in a discussion of conservation and restoration techniques that could allow salt marshes to persist in our environment and into the future.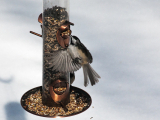 Winter Birds: Their Identification and Feeding
with Linda Woodard

Next available session starts Nov 18, 2021 at 6 pm

, runs for 1 week
Learn to identify the birds you may find in your yard this winter, as well as learn how you can hlep them through our Maine winters with food and water. We will study a variety of birds, including ducks and birds of prey, noting any population shifts. Examples of appropriate feed and feeders will be present for you to review, as well as resource books. Handouts to take home will be provided. Join us for a fun and informative evening!