Filter by Category
Environment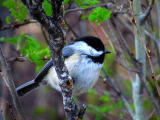 Local Maine Birds
with Linda Woodard

Next available session starts Feb 27, 2023 at 6 pm
Are you curious about the feathered friends in your yard or at your feeder? Learn to identify birds that you may find locally! We will study the appearance and habits of a number of beautiful birds that make their habitats locally. Linda Woodard is the Director of Scarborough Marsh Audubon Center. 
Bird Success Stories
with Linda Woodard

Next available session starts Mar 27, 2023 at 6 pm
Jane Goodall's book, "Reason For Hope," is the inspiration for this class about Maine birds. There are success stories in the conservation world! Attend this class and learn about Maine birds that are surviving and thriving: Puffins, Eagles, Piping Plovers, and Loons, to name a few. 
Landscaping 101-A Mini Course For Beginners
with Amy Witt, Horticulturist

Next available session starts Apr 5, 2023 at 6:30 pm

, runs for 3 weeks
Are you a do-it-yourselfer who wants to give your yard a simple makeover or design a new garden? Do you need to add curb appeal to the house you are ready to put on the market. Or do you simply want to enjoy enhanced beauty in your backyard? Whatever your final goal, knowing some basic landscape design techniques will make it easier for you. Learn how to assess your needs, evaluate your site, come up with a plan, and select the right plants.