Filter by Category
Exercise & Outdoor Fun
Maine Healthy Lawn Care Made Simple
with Ali Clift,CCSWCD

Apr 15, 2020 at 6 pm

, runs for 1 week
What defines the "perfect Maine lawn"? One that's lush and green, safe for families, pets, and the environment, plus saves you time and money! Learn to create a more resilient, beautiful lawn without relying on synthetic fertilizers and pesticides. We'll provide strategies for fertilizing correctly, controlling weeds and thatch, renovating poor lawns, transitioning to organic care, and more. Whether you maintain your lawn or hire a professional, round up your neighbors and join! This program compatible with the Town of Scarborough's organic pest management policy for school and town properties, as well as the City of Portland's and City of South Portland's pesticide ordinances. Ali implements community education and outreach programs for Cumberland County Soil & Water Conservation District, holds degrees in environmental studies and marine science, and offers this through CCSWCD as a free community service.
Wed, 4/15/2020, 6:00 to 8:00 pm, 
$5 adult ed processing fee
Instructor: Ali Clift, CCSWCD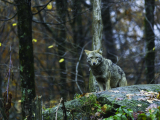 Online Registration Unavailable
Wildlife & Nightlife of Scarborough's Eastern Trail - postponed
with Noah Perlut, PhD

Apr 28, 2020 at 6:30 pm

, runs for 1 week
Hidden cameras reveal much! Join Professor Perlut as he shares fascinating remote video of nightlife and wildlife activity taken along a 1.6 mile portion of Scarborough's Eastern Trail. This is part of UNE's multi-year "Gap Tracks Study" focusing on a part of the trail scheduled to be connected. Excellent opportunity for families to witness real-time footage of wildlife in their natural habitat and learn how environmental factors influence animal behavior. An engaging presentation not to be missed, presented as one in a series of lectures by The Friends of Scarborough Marsh; see scarboroughmarsh.org
POSTPONED UNTIL FALL 2020, 6:30 to 7:30 pm, Scarborough High School's All Purpose Room 
FREE, no registration required, just come join us!
Lecturer: Noah Perlut, Ph.D., Assoc. Professor, UNE Dept. of Environmental Studies
Maine Plein Air Oil Painting: Beginners and Up
with Christopher Reed

May 7, 2020 at 6 pm

, runs for 6 weeks
Capture the magic that is Maine! Spend the first two classes inside the studio touching on mindfulness practices, reviewing some basic art foundations, and practicing technical skills for outdoor landscape painting. Learn to navigate oil's challenges and take advantage of the benefits: brighter colors, slower dry time, ease in blending, minimized color change through drying process, etc. Rain days held in Scarborough High art studio; remainder of classes off-site, weather permitting, locations tbd like Kettle Cove, Scarborough Marsh and/or Portland Head Light. Supply list provided once class determined to run.
Chris graduated from Bowdoin College with a BA in Visual Arts. He's a painter, exhibitor, and art teacher inspired by the synthesis of nature, the evolving play of light, and each artist's unique, mindful expression of feelings and interpretation: www.christopherdreed.com
Six Thurs, 5/7 to 6/11/2020, 6:00 to 8:00 pm, $94, plus supplies provided by student
Instructor/Artist: Christopher Reed