Filter by Category
General Enrichment
Taking Awesome Pictures With Your iPhone/iPad Camera
with Boomer Tech

Current session started Aug 25, 2022
Asynchronous This is a step-by-step guide to taking beautiful photos for anyone who wants to significantly upgrade their photography skills. This course contains multiple self-paced videos with accompanying pdf booklet.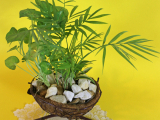 Houseplants 101
with Raychell Libby

Next available session starts Feb 8, 2023 at 5:30 pm

, runs for 2 weeks
Houseplants purify air, regulate humidity, and even reduce stress levels! This two week session teaches you the basics that you need to make your houseplants thrive. Basic needs will be covered in the first class: light, soil, water, nutrients, and pest control. The second class will include propagation and troubleshooting any issues are facing with your plants-bring in a photo of your plant, or bring a small plant in as needed to the second class.