Filter by Category
Healthcare Training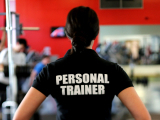 Registration Unavailable
Certified Group Exercise and Personal Trainer
with Academy of Medical Professions
Looking for a new career?vInterested in changing lives of those around you?  How about a part-time career or to get paid to work out?  This program is designed to teach you everything you need to know to enter the health and fitness field as a group fitness instructor and/or personal trainer.  Our trainers are highly recognized in this field, with more than 20 years experience, and will provide you hands-on training to pass the national tests through AFAA.  The program is all-inclusive.  You may choose to complete both group fitness and personal training, or take one or the other.  Lectures are once a week for 10 or 20 weeks.  $1,500 or $3,000 for both.  All materials included in fee including National Certification Exams.
TO REGISTER OR PAYMENT PLANS CALL The Academy of Medical Professions. 866-516-8274 or  207-721-0714 or www.academyofmedicalprofessions.com 
Weeks: 10 wks or 20 wks
Days: Online
Start Date: Open Enrollment
Registration Unavailable
CNA - Piper Shores
Certified Nurse Assistant is a high demand job in Maine! Completion of the 180 hour state-approved certification course will open the door to a new career in the healthcare industry. To meet the demand for CNAs we are offering two classes this semester. 
To be eligible to take the class we must have the following:
• Completed application (including signed agreement perform a criminal background check)
• An acceptable CASAS Reading Test score
• Evidence of high school completion
• Physical form on file including up to date immunization records
Contact us at ahead to obtain our application packet: 
Joan Tremberth at jtremberth@scarboroughschools.org, adulted@scarboroughschools.org or call 730-5040
Then come to our Info Night:
April 3, 6pm, Scarborough High, CASAS test available
Class starts: April 15, 2019
Ends: June 20, 2019
Classroom Mon, Tues, Thurs, 3-9pm at Piper Shores' Holbrook Assisted Living Center. Clinical schedule may include weekend days, scheduled discussed at Info Night.
Cost: $500 includes books materials (50% of the $1,000 total paid by Piper Shores), payment plan available upon online registration
Registration Unavailable
Pharmacy Technician Certificate Program with PTCB National Certification
with Academy of Medical Professions

runs for 14 weeks
All Inclusive 14 week program.  
Work One-On-One with a Pharmacy Technician Trainer and entirely online with support from a Pharmacy Technician and Trainer. The Pharmacy Technician is one of the fastest growing jobs in health care today.  In this course, you will learn everything from the role of the technician in the pharmacy setting, to the basic sciences at the core of pharmacy practice, to preparing for the PTCB exam.  You will learn complete drug information that includes proper name, spelling and pronunciation, drug class, generic and trade name, route of administration, dosage and more of hundreds of drugs.  You will be able to identify pills on sight with pill photos, gain a better understanding of how certain drugs work within the body with a concise review of relevant anatomy and physiology, and stay up to date with cutting-edge pharmacy practice with the latest information on new drugs, regulations, HIPAA guidelines and safety procedures.  You will be ready to pass your PTCB national certification included in cost. $1,850.00.
For more information contact the Academy of Medical Professions, Inc.  All materials included in fee including National Certification Exam fee. 
TO REGISTER OR PAYMENT PLANS CALL The Academy of Medical Professions, Inc 866-516-8274 or  721-0714 or www.academyofmedicalprofessions.com 
Weeks: 14
Start Date: Online anytime