Filter by Subcategory
Literacy
English Language Learners: Daytime
If English is not your first language or you are newly arrived in Maine the Scarborough Adult Learning Center is pleased to offer classes and
individualized tutoring opportunities to help you with your English!
Daytime ELL
in South Portland at an off-site location
M/W/F 9-12
Odysseyware Web-based Learning
with Linda Morehouse
Scarborough Adult Education offers an opportunity for adult high school diploma students to earn missing credits through our web-based Odysseyware program. You may earn credits in a variety of subject areas by doing the required work on your home computer under the direction of an instructor/facilitator. You must meet with the academic coordinator for an Intake Session in order to embark on this program.
Please contact the office at 730-5040
Tech Facilitator: Linda Morehouse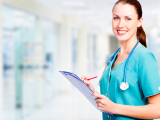 Registration Unavailable
Pre-CNA Class for English Language Learners
Price not
available
NEW! Starts in Early Spring! 14 week CNA for English Language Learners who will require additional English reading comprehension and communication skills prior to starting their CNA class with us. Sponsored through Sedgewood Common, a Genesis Healthcare Facility in Falmouth, this course provides intensive English instruction during the first three weeks and then continued English support while enrolled in your CNA class. Acceptance into the program requires a minimum CASAS score of "230" and complete application packet, including evidence of high school completion, photo ID and Social Security card. We anticipate this to be a daytime class 3 days per week with classroom in Portland.
PLEASE CALL 730-5040 or email: jtremberth@scarborough schools.org.